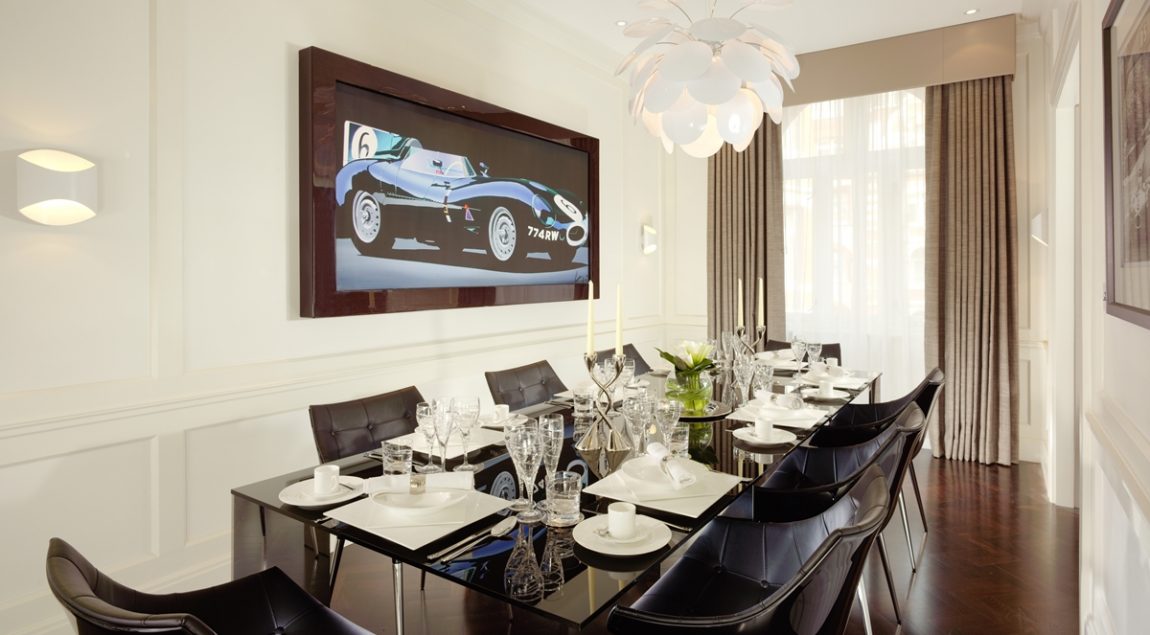 Westminster, SW1E
Jaguar Suite
There is power. There is luxury. But there is only one Jaguar Suite anywhere in the world.
Enquire
Gallery
Share
£3450 – £5750
per night

2


bedrooms
2
bathrooms
Sleeps

4
Overview
Overseen by Jaguar's acclaimed Design Director, Ian Callum, this suite features specially-commissioned furniture, artwork and displays. Subtle references to Jaguar's timeless design style and aesthetic will be familiar to those who know and love these motoring masterpieces. The sleek design of this 1,832 square foot, two-bedroom apartment alludes to both classic and contemporary Jaguar models, from the legendary 1960's E-type to the state-of-the art C-X75.
This unique Jaguar experience starts subtly at the door, with sleek wood panelling greeting guests on arrival and Jaguar damask lining the bedroom walls. Intriguing design features are evident throughout, from the minimalistic clean-fuel fireplace referencing the shape of the brand's hallmark rear window, to the finest leather that lines the cars, ebony veneer doors and custom-made Jaguar wallpaper.
The spacious yet homely living room with a courtyard-facing balcony has one wall covered in Italian leather, embedded with a 42 inch television and offers Denon and Creston superior sound systems and Sonance ceiling speakers.
Facilities
Twice daily maid service
Butler services available 24 hours daily
Jiva Wellness Centre, complimentary gym access for residents
24 hour concierge and reception for all your travel, medical and other requirements
24 hour room service available
Al fresco eating in the hotel's exclusive Courtyard
4 Restaurants and 3 bars on site, including Michelin starred Quilon.
Afternoon tea room offering themed experiences.
Air Conditioning
Currency exchange
Laundry/Valet service
Chauffeur driven Jaguar XJ
Complimentary bar fully stocked on arrival (replenishment chargeable)
Breakfast
Nespresso coffee machine
Fully-equipped kitchen
Children's amenities on request
DVD player and DVD library
T London bath products
Multilingual staff
Complimentary newspaper
Complimentary mineral water
Complimentary wireless internet
Daily Complimentary evening drinks at Kona 18:00 to 19:00
Private Bar
Private phone number with voicemail
Washer/dryer
Desk
Bathrobe and slippers
Hairdryer
Iron and ironing board
Suit, shirt and padded hangers
Sewing kit
Enquire