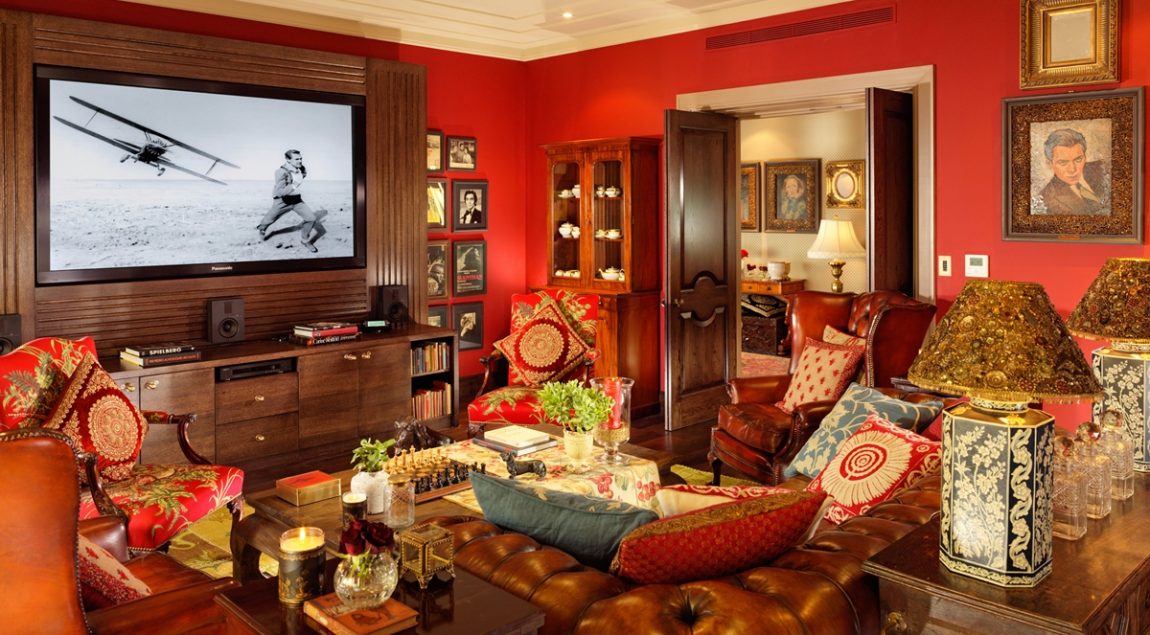 Westminster, SW1E
Cinema Suite
The glamour of the red carpet and the thrill of Hollywood and Indian Cinema. Created by the acclaimed Indian designer Sabyasachi Mukherjee in celebration of world cinema, this unique two-bedroom suite comes with a dining room, study, powder room, and kitchen.
Enquire
Gallery
Share
£6120 – £6140
per night

2


bedrooms
2
bathrooms
Sleeps

4
Overview
A journey through world cinema and an ode to tradition, this 1,832 square foot two bedroom suite is designed in tribute to the history of film and takes inspiration from motion pictures across the globe.
The suite is inspired most notably by the era of 1940s and 1950s Hollywood and Indian Cinema. Guests will find reference to masters like Ray, Coppola and Bergman in the imposing study, world cinema leaders like Majidi, Wong Kar-Wai and Almodovar amongst the cultured kitch of the living room and echoes of The Stepford Wives in the kitchen. One bedroom is reminiscent of the golden Hollywood era of Rita Hayworth and Marilyn Monroe whilst the other draws on colonial inspiration and renowned Indian artists Guru Dutt, Merchant Ivory and Bimal Roy. The suite is a celebration of personalised detail and global culture. Visitors will marvel at breathtakingly rare Bollywood film prints, remarkable history books, vintage mirrors and a myriad of portraits and drawings. From the leather Chesterfield to precious glassware, intriguing art and antique rugs, world arts and crafts are displayed throughout. Each wall is a work of art in itself, with striking Nina Campbell wallpapers in burnt orange, black and red and curios collected from over 32 different cultures. The suite displays sumptuous silk drapery, magnificent oak flooring, priceless antique furniture and ornaments such as rare Chinese porcelain, Bhutanese frames and 1920s embroidered Indian lamps.
The Cinema Suite is an urban cocoon featuring cutting-edge technology blending perfectly with glamorous design. The 85-inch plasma cinema screen, with a 3D state of the art home theatre system, is the biggest private screen in a London hotel suite. The world-class Steinway Lyngdorf sound system makes for a fully immersive cinematic experience which raises the bar for an in-hotel audiovisual offering. Preloaded with a repertoire of over 300 international motion pictures, books and music, it acknowledges that time is well spent amongst films, art and culture. Whilst utterly different in style, the Cinema Suite is the second designer collaboration for Taj 51 Buckingham Gate, following the autumn 2011 launch of the world's only Jaguar Suite conceived by Jaguar Design Director, Ian Callum.
Facilities
Twice daily maid service
Butler services available 24 hours daily
Jiva Wellness Centre, complimentary gym access for residents
24 hour concierge and reception for all your travel, medical and other requirements
24 hour room service available
Al fresco eating in the hotel's exclusive Courtyard
4 Restaurants and 3 bars on site, including Michelin starred Quilon.
Afternoon tea room offering themed experiences.
Air Conditioning
Currency exchange
Laundry/Valet service
Cinematic platter served daily
Breakfast
Complimentary bar fully stocked on arrival (replenishment chargeable)
Nespresso coffee machine
Discreet and courteous butler service
Fully-equipped kitchen
Children's amenities on request
T London bath products
Multilingual staff
Complimentary newspaper
Complimentary mineral water
Complimentary wireless internet
Daily Complimentary evening drinks at Kona 18:00 to 19:00
Private Bar
Private phone number with voicemail
Washer/dryer
Desk
Bathrobe and slippers
Hairdryer
Iron and ironing board
Suit, shirt and padded hangers
Sewing kit
Enquire