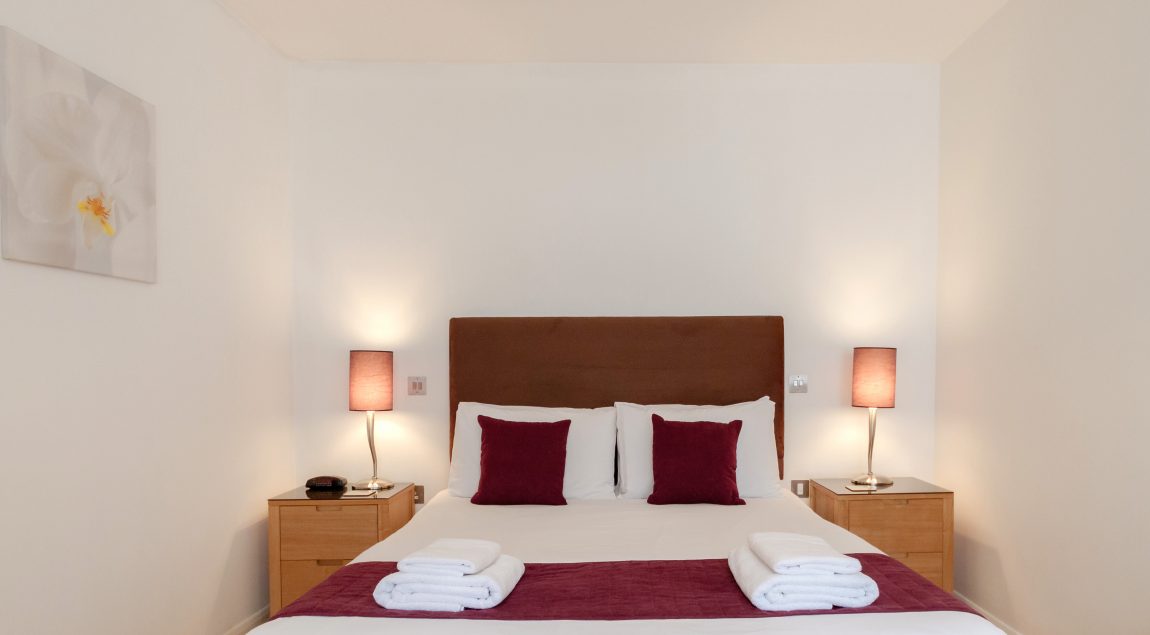 The City, ec4m 9eh
Studios & 1 Bedroom Apartments
Welcome home to Groveland Court by Roomspace. This recently upgraded development of studio and one bedroom apartments is nestled in the narrow streets of this historic part of the city. Brand new fluffy duvets, striking London photography and modern, minimalist furniture ensure these apartments are comfortable, functional and enjoyable. Unlimited high speed internet connection, Smart TVs and great quality Bluetooth-enabled docking stations make Groveland Court the ideal place from which to work or relax and unwind.
Enquire
Gallery
Share
£115 – £147
per night

1


bedroom
1
bathroom
Sleeps

2
Overview
The apartments are surrounded by historic buildings including St Mary Le Bow Church and Ye Olde Watling, which dates back to the 17th century. The London Stock Exchange and Bank of England are within easy reach on foot. Alongside these sits One New Change, a stunning development of fine restaurants, bars and shops, meaning everything you need for an enjoyable stay is right on your doorstep. Mansion House and Bank Underground Stations are within minutes' walk of your front door, meaning this incredible, diverse city is yours to explore. This is London living at its best.
Enquire
View terms
Terms
RATES TO INCLUDE:
 Weekly Housekeeper (for stays of over 7 nights)
 All utility bills
 Broadband access
 Basic free view
 Guest Services support – to assist with any issues that may arise
 Security safes
PRE-BOOKABLE, CHARGEABLE EXTRAS
 Welcome pack – to include basic provisions at check in
 Taxi transfers
 Cots
 Fold away bed
 Car parking (certain locations only)
PAYMENT
We accept bank transfer or credit or debit card. Please note administration fees apply for credit card payments.
Payment is required prior to your arrival date.
For bookings not made through or being paid for by the in-house guests company or booking agent identification will be required in the form of a copy of a passport or driving license along with a utility bill confirming the billing address of the credit or debit card being used for payment.
CANCELLATION POLICY
Should the in-house guest wish to vacate the apartment or cancel a reservation 2 weeks written notice is required. Should less than 2 weeks' notice be given, the penalty fee applicable is the shortfall in the number of nights notice given e.g.10 nights notice given then the penalty fee incurred is 4 nights' accommodation charge.
We do however offer all guests a 48 hour guarantee upon check in. If for whatever reason the guest decides the apartment is not suitable we will offer the choice of an alternative available apartment or the option to vacate the apartment without incurring a charge (Please note administration fees apply for credit card payments including any cancellations).
CHECK IN AND DEPARTURE TIMES
Our standard check in time is from 15.00 and departure time 10.00. Early or late check in or check outs can be requested and is subject to availability. On some occasions charges will be applicable and will be advised at the time of request. For any unauthorised early arrivals or late departures a charge of 1 nights' accommodation will be incurred.
EXTENSIONS
For bookings of 28 days plus the option to extend is available. This should be given in writing two weeks prior to your original departure date.
For any bookings for less than 28 days an extension will be subject to availability.
APARTMENT POLICY
Roomspace operates a no smoking policy, no pets' policy and no party policy throughout its apartments.