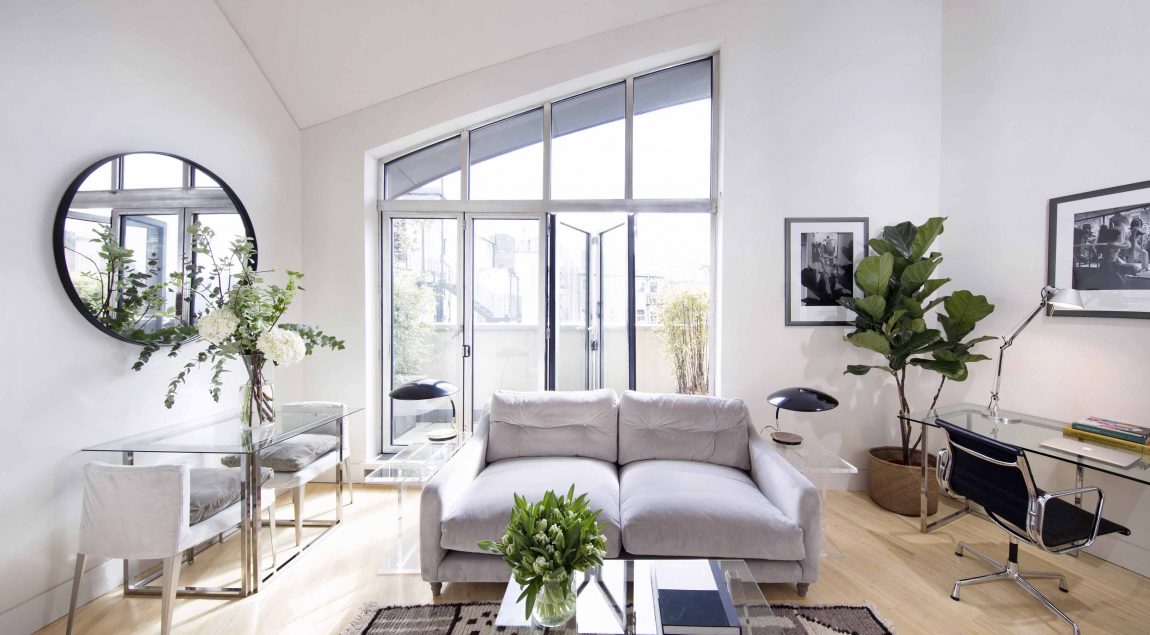 Mayfair, W1S
2 Bedroom Mezzanine Loft Suite
One of two suites that occupy the top floor of No.5 Maddox St., the Mezzanine Loft Suite offers views over the surrounding area.
Enquire
Gallery
Share
£395 – £725
per night

2


bedrooms
1
bathroom
Sleeps

5
Overview
One of two suites that occupy the top floor of No.5 Maddox St., the Mezzanine Loft Suite offers views over the surrounding area.
This spacious suite draws its name from the unique mezzanine master bedroom – which houses a king-size bed, faux sable throws, a dressing table and smart TV – and is accessed via the leather staircase in the living room.
This unusual feature gives the downstairs living space a double-height ceiling, with large windows leading up one wall adding to the impression of light and space. A door opens onto the adjoining decked balcony, which makes for a stylish, tranquil space, and is overlooked by the dining table; an ideal inner-city summer retreat.
Also to be found on the main floor is the second bedroom, that also features a king-sized bed, faux sable throws, built-in wardrobes, and a dressing table.The main bathroom has a bathtub, rainforest shower and REN skincare products.
Tucked behind the stairs is the modern kitchen, fully-fitted with Neff appliances, Nespresso coffee machine, and our much coveted Big Bar. A quiet space behind the stairs is also dedicated to the workspace.
Size: 600 sq feet / 56 sq metres
Floor: 5 (no lift)
Facilities
24-hour concierge
Daily housekeeping service
Dry cleaning and wash and fold service
Big Bar with 'Good', 'Bad' and 'Help Me' options. Items are organic, sustainably sourced and locally purchased where possible
REN skincare products
In-room spa treatments from some of Mayfair's top therapists
Complimentary access to a local fitness centre (less than 5-minute walk)
Welcome Tray with l'Artisan Du Chocolat treats
Workspaces with high-speed wireless broadband
LED smart TVs
Cordless, direct dial telephone
Marshall Bluetooth Speakers
Personal safe
Air conditioning
Fully-fitted kitchen with Neff appliances
Nespresso coffee machine
Luxury bedlinen, linen kimonos, and faux sable throws
Hypnos Balmoral mattresses on each bed
Black and white prints of 1950s/60s Soho
Phaidon art books
Yoga Mats
Enquire
View terms
Terms
RESERVATIONS
Guest reservations are only confirmed on receipt of credit card details (long number, expiry date & security code). An advance payment of 1 week's rent (or full payment if occupancy is less than a week) is required at the time of booking. The outstanding balance must be paid by the guest or occupier on arrival. Firm dates of arrival and departure must be stated at time of booking. Every endeavour will be made to accommodate guests wishing to extend their stay but no guarantee can be given. If payment does not reach us at the required time we reserve the right to suspend or cancel any booking made.
CANCELLATIONS
If notice of cancellation is received 3 weeks before the commencement of stay, the deposit will be refunded, minus a cancellation charge for 15% of the total rental. When less than 3 weeks notice of cancellation is given no refund will be made.
ARRIVALS & DEPARTURES
Apartments are not generally available for occupation until 2pm. Early arrival or late departure may be available for an additional charge but cannot be guaranteed. Luggage can be left with reception during office hours, subject to availability of space. Arrivals before 9.00am and after 6.00pm must be arranged in advance with the management. A late arrival charge will be added. The current charges are:
A) After 8pm and before 11.00pm an additional charge of £50 will be added
B) After 11.00pm this will increase to £100.
These rates may be subject to change. Apartments must be vacated by 11am on day of departure. Late check out is only by prior arrangement.
KEYS
Guests will be provided with a set of keys to their apartment on arrival. Additional sets can be provided on request. It is the responsibility of the guest to ensure that they are in possession of these keys at all times and that the keys are returned at the end of the guest stay. An additional charge will be made for lost keys of £50. If we are required to provide access due to lost or forgotten keys outside of working hours Monday – Friday 9am – 6pm a further £50 will be charged.
BREAKAGES
An inventory of the apartment will be made on the morning of departure, and any damages or breakages will be charged to the occupier using the credit card details supplied at time of booking.
ADDITIONAL CLEANING OR REPAIRS
Guests and Occupiers are expected to keep their apartment, its furniture, fittings and soft furnishings in the same condition as found on arrival/check in. If on departure it is found that specialist cleaning or repairs in the apartment are required, we reserve the right to apply specialist cleaning or repair charges as found to be necessary. The minimum specialist cleaning or repair charge is £100. These charges will be applied using the credit card details supplied at the time of booking.
TELEPHONES
Guests are responsible for all telephone call charges incurred during their stay. Local calls are charged at a rate of £0.80p per minute plus VAT. International call & calls to mobiles vary in price. Guests are asked to visit reception upon departure to settle their phone bills. Early morning departures before 9.00am are asked to visit reception the day before departure. Unpaid telephone bills will be charged to the credit card which was used to make the initial booking reservation.
COMPLAINTS
In the unlikely event that you are dissatisfied with any aspect of your accommodation please notify reception as soon as possible and we will aim to resolve the issue immediately. If you are still dissatisfied with the service, please write to The Company Secretary, 65 Harley Street, London, W1G 8AY.
THE MANAGEMENT RESERVES THE RIGHT TO VARY THE TERMS AND CONDITIONS WITHOUT PRIOR NOTICE. ALL RATES ARE EXCLUSIVE OF VAT